Automotive Luxury Professional Chauffeurs
Airport Chauffeur – Limo Chauffeur – Chauffeur NYC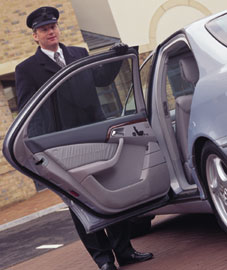 Whether you are trying to arrange transportation from an airport or have a night on the town, a professional limo chauffeur or airport chauffeur is important for a successful trip. Automotive Luxury Professional Airport Transportation Chauffeurs are the most experienced around, and ready for anything.
All our limo chauffeurs are dressed in dark business suits and some wear a photo ID. Many are bilingual and can provide special foreign language materials for our non-english clients. Your preferences can be saved in your personal client profile in our system for future use.
With an average of over ten years driving experience you can relax and know that your driver can handle any traffic condition. They undergo continuous training and testing to ensure their knowledge of the transportation route. Of course, all of our professional chauffeurs are fully licensed.
Airport Pickup: Your airport chauffeur and limo chauffeur makes your airport transportation easier
Your airport chauffeur will meet you inside the terminal (no extra charge).
Your limo chauffeur will be easily identifiable with your name on a sign.
Your airport chauffeur will carry your baggage to your limo.
Your limo chauffeur will always know your destination and most direct route in advance.
Your flight arrival is monitored online before pick up. Your airport chauffeur will know exactly when you're arriving and will be there.
In many cases, our professional chauffeurs use the latest navigational systems which provide them with precise and specific directions when going to remote locations.
Many of our vehicles are equipped with a tracking system. The location of each vehicle, chauffeur and passengers can be displayed on our home or office PCs. The system could also verify the names of the passengers. This can be very useful for those organizations that require certain contingency plans as part of their operations, especially for their top management personnel.
To arrange airport transportation or any other type of car service, please call Doug at 212-966-6400 and mention you saw us online for a free upgrade!