O'Hare and Midway Airport Transportation
Who would you prefer provides your airport transportation?
O'Hare and Midway Airport Transportation
If you are not aware, there are companies (and individuals) that are illegally hailing passengers in the need of O'Hare and Midway Airport transportation (and many others, especially SFO). It is very likely that many of these Illinois Airport Transportation services lack proper vehicle insurance. Many also use old sedans (verses late model or newer vehicles) and have limousines that are not properly maintained. Do not get in any Limo you have not Pre-booked.
Why is this sign on every baggage claim carousel in the Midway (MDW) Airport?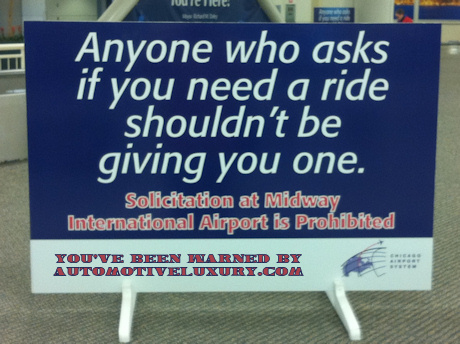 This sign protects passengers and legitimate limousine and sedan companies interests.
There is also an underlying message (the unspoken word) of this sign which is a warning regarding the possibility that your luggage could be hijacked for an added gratuity or charge. Hijacking of luggage is a documented practice by illegal operators in major cities, however we have no first hand knowledge of it happening in the Midway Airport, but thought we should warn the public. Again, be safe and pre-book your airport transportation. Call us now and be prepared for your trip. Don't leave your ride to chance.
Want to enjoy the benefits of our customers? Become an Automotive Luxury customer today and join the thousands of people that never have to endure parking hassles.
How would you prefer to travel to or from the airport?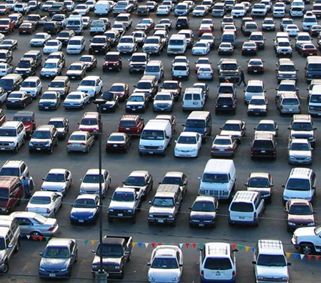 Self Park:
Pay Daily Rates
Leave home or work earlier
Deal with weather (arrival & departure)
Wait for uncomfortable Park/Fly Shuttle
Drive home after trip, deal with Traffic
Luxury Airport Transportation: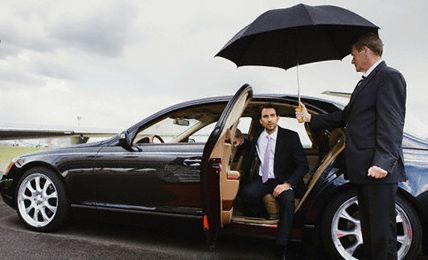 Fixed Low Rate
Stress Free Travel
Drop off & Pick up at Terminal
Baggage Assistance
On time drivers
Flight & Traffic Monitoring
A. Central Illinois Regional Airport
3201 Cira Dr
Bloomington, IL
(309) 663-7383
www.cira.com
B. Southern Illinois Airport
556 N Airport Rd
Murphysboro, IL
(618) 529-1721
www.siairport.com
C. University of Illinois Urbana-Champaign Willard Airport
11 Airport Rd
Champaign, IL
(217) 244-8618
www.flycmi.com
D. O'Hare International Airport
10000 W O'Hare Ave
Chicago, IL
(800) 832-6352
www.flychicago.com
Midway Airport
5700 S Cicero Ave
Chicago, IL 60638
(800) 832-6352
www.flychicago.com
Why not travel in comfort?
Customers are surprised at just how affordable luxury airport transportation can be.
Please call us at 212-966-6400 to get rates, request special language drivers (Bi-lingual English/Russian, English/Spanish, and many other Languages) or for any questions about Limos, Cars or Buses for JFK Airport Transportation. Contact us today.
Airport transportation and Car Service to these Airports Statewide.
Service Includes but is not limited to Chicago, Peoria, Quincy, Belleville, & Bloomington.
| City | Airport Code | Airport Name |
| --- | --- | --- |
| Alton/St Louis | ALN | St Louis Regional Airport |
| Belleville | BLV | Midamerica Airport |
| Bloomington | BMI | Central Illinois Regional Airport |
| Carbondale/Murphysboro | MDH | Southern Illinois Airport |
| Champaign | CMI | Champaign Willard Airport |
| Chicago | MDW | Chicago Midway Airport |
| Chicago | ORD | Chicago O'hare International Airport |
| Chicago | CGX | Merrill C Meigs Field |
| Danville | DNV | Vermilion County Airport |
| Decatur | DEC | Decatur Airport |
| Marion | MWA | Williamson County Regional Airport |
| Mattoon/Charleston | MTO | Coles County Memorial Airport |
| Moline | MLI | Quad City International Airport |
| Mount Vernon | MVN | Mount Vernon Airport |
| Peoria | PIA | Peoria Regional Airport |
| Quincy | UIN | Quincy Regional Airport - Baldwin Field |
| Rockford | RFD | Greater Rockford Airport |
| Springfield | SPI | Abraham Lincoln Capital Airport |
| Sterling/Rockfalls | SQI | Whiteside County Airport |
DOWNLOAD THE AUTOMOTIVE LUXURY APP!