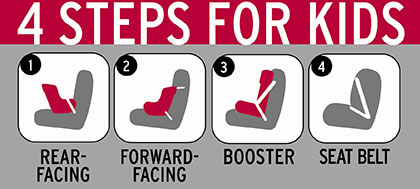 Are you looking for a car service with car seats NYC? Going on vacation with your family presents some logistical issues when little children are involved. Automotive Luxury Limo offers a car service with car seats and child safety seats in over 42 states Nationwide, especially in NYC.
Our drivers will pick you up with our clean and sanitized car seat(s) already installed. When Traveling to New York, we offer just about every kind of 5-point harness, high back booster, as well as backless booster car seats.

Take the hassle out of getting to the airport or across town. We've got your baggage, child seats, executive travel, itinerary status, and more. Anything you want to be kept on file for your personal travel needs will be at our fingertips and rest assured your NYC car service needs are met.
Most States exempt taxi and for-hire vehicles from the child safety seat restraint requirement yet encourage parents to bring their own safety seats that drivers of such vehicles must allow to be installed.
To insure that drivers are educated on how to use car seats, booster seats, and wheelchair assistance, Automotive Luxury gives them practice coverage in our driver training sessions.
If you need a special seat but don't want to drag it along on board the plane or train with you, we can even hold your child safety seat at our office for no extra charge and make sure it's in the car waiting for you upon your return. We've heard other companies actually charge for this simple service!
Although the law doesn't require you to use a car seat in a taxi or livery service, it's wise to do so anyway. You probably wouldn't dream of letting your kids go car seat-free in your own vehicle. If you have a baby, then a Snap N' Go Stroller with a built-in car seat works well. But for kids that need a regular car seat, it gets a little more complicated.
If you're just visiting NYC, you can always rent a car seat during your stay (although that means lugging it around town with you). A better option for tourists and locals alike is to call one of the NYC car services with car seats that provide limo service with car seats upon request.
Infant car seats, toddler car seats, and booster car seats are all available on request.
Our NYC Limo Service office storeroom has every child safety seat imaginable ready to be installed in your vehicle of choice. Booster seats, forward facing, rear facing, infant/toddler, just ask for one, or if you're traveling with twins, multiple toddlers, an infant, and a toddler, or simply need more than one car seat, we've got you covered.
If you've got a special need that involves cars and travel, we'll always say "yeah we can do that". We even have a unique accompaniment program for under-age children traveling alone. You get a designated driver that can pick up your unaccompanied minor from the airline.
https://automotiveluxury.com/wp-content/uploads/2014/09/NYC-Limo-Child-Car-Safety.jpg
189
420
Doug Camhi
https://automotiveluxury.com/wp-content/uploads/2015/05/automtove-logo.jpg
Doug Camhi
2018-10-06 06:48:57
2023-01-31 16:12:21
Car Service with Car Seats NYC